As part of the Unified Community Platform project, your wiki will be migrated to the new platform in the next few weeks. Read more here.
Guns and Robots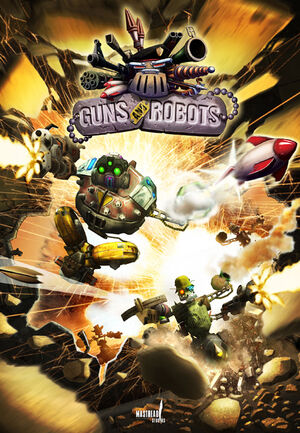 GUNS and ROBOTS is free - to - play online shooter in which players assemble funny looking, yet deadly robots. The game blends fun, inventive character design and deep customization features. Players are provided with exciting situations during variety of maps. The incredible battle mechanics combined with funny looking robots adds a whole new perspective to the genre.
Customizable features– In Guns and Robots, the robots come in three module classes based on players' assembly and unlimited options for character customization.
Pinpoint enemies with multiple weapons simultaneously – Wide variety of potential combinations per weapon allow players to fine—tune their arsenal according to their game play preferences.
Enjoyable and extremely funny online arenas where players literally blast their way through.
Adrenaline-pumping game play – Different maps add fine mixture of thrill, speed and action to the game play.
Dynamic combat experience – Players can choose to line up for high-level real-time combat.
Player Guilds
Achievements – Variety of achievements for the players with exceptional performance.
Capture the Batteries (Capture the Flag)
Team Deathmatch
Bomb Squad (Destroy the Enemy Base)
Siege
Abordage
Suburbia
High Noon
Upcoming Features in the First Season of Guns and Robots
[
edit
|
edit source
]
PVE –PVE and PVE Arenas are planned to give players option to level up fast and go on single player adventures.
Game Events–Players will heat up their engines for new exciting events. During the First season there will be several specials for players to enter and play on weekends. Events will be scheduled and all players will be invited to participate.
Territory Conquest– One of the major additions in Guns and Robots will be this new play mode that will allow players to conquer territories in ranked guild death- matches, where players will fight in open world arenas to dominate one territory.
Item Upgrades – Players will be able to upgrade parts and weapons with numerous possible modifiers